Creating an accidental reimbursement is caused by either:
1. Not selecting the card transaction on the expense report, which results in a reimbursement or
2. Selecting a receipt that was submitted through the mobile app without also selecting the card transaction. Receipts uploaded through the mobile app are formatted very similarly to a card transaction. The receipts are labeled as "Quick Expenses" so make sure that the Bank of America T&E Card Transaction is selected as well.
There are two options to correct an accidental reimbursement:
1. If the T&E Card expense has not yet been expensed in Workday: 
*If the T&E Card transaction has not yet been expensed in Workday, but the reimbursement was more than $2,000, you have the option of following option #2 instead.
Create an expense report in Workday Expenses for the card transactions you were reimbursed. Check the box "Personal Expense". This will deduct the amount of the transaction from the cardholder's next paycheck.

You will keep the reimbursement that will be received/has already been received.

In the Memo field, indicate that the card transaction was expensed as a reimbursement in error.
Once the expense report is fully approved, the charge will be sent to Payroll for deduction from the cardholder's paycheck.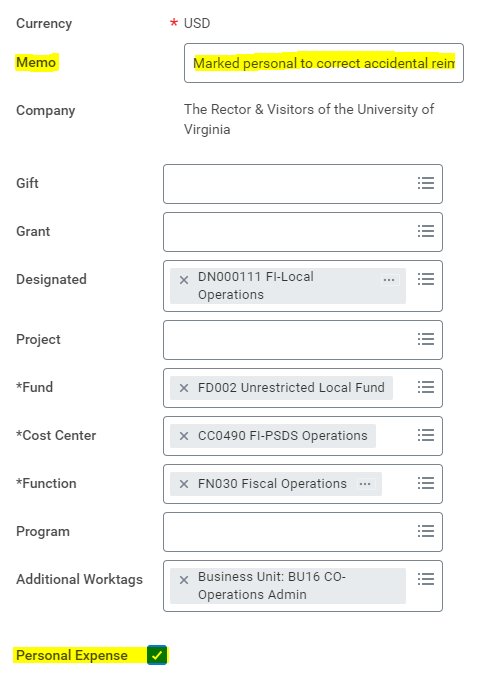 2. If the T&E Card expense has already been submitted and is no longer in Workday:
Write a check for the correct amount being repaid to the University of Virginia.

Work with your fiscal admin to locate the person in your department/building to see who has a Remote Deposit Scanner (RDS). The person with a remote scanner can deposit the check and credit the funds to the correct FDM string. Once you receive a receipt, go back into the expense report and add an attachment and comment regarding the accidental reimbursement.

If you cannot locate a Remote Deposit Scanner in your area,

 submit the Department Deposit Form along with the check to the Cashier's Office.
If you have any difficulty completing this process, please reach out to your Expense Ambassador: https://uvafinance.virginia.edu/resources/how-can-i-find-my-expense-ambassador