Finance Strategic Transformation
We marked a major milestone in Finance Strategic Transformation this July with the launch of Workday Financials in place of Oracle as our financial system of record, and, later that same month, the University's new financial planning tool, Adaptive Planning 3.0. This cloud-based technology leverages industry best practices, develops a future-state business model, and enables us to use modernized tools. Practically speaking, Workday Financials and Adaptive Planning reduce administrative burden, make compliance easier and more consistent, strengthen our risk management framework,  improve our reporting and analytics, and allow the University to better steward its resources.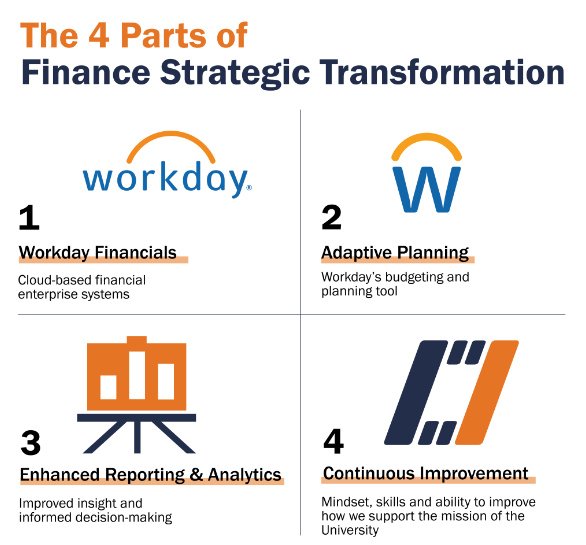 We are currently in the Stabilization phase of the project.
The stabilization phase extends from October to December, and in this phase, we focus on knowledge transfer from the project team to the finance operational support organization, ongoing support for stakeholders, and preparation for ongoing governance and engagement.
Resources are available.
Remember that learning resources are available to help you navigate the new system.  Review security roles, required training, course slides, and quick reference guides on the Workday Finance Training page.
No system implementation is perfect, and we know you'll have questions, especially in the early days. That's why our team of User Success Agents is prepared to assist you. We look forward to helping you, so contact us with your questions and concerns at askfinance@virginia.edu or 434-924-3400.
Work continues after launch.
Work on the system is ongoing. For more information on the Workday Financials functionalities still in progress and relevant workarounds, visit the list of deferred items and their progress below.
Items in Progress
Spend Issues

Fund Balances

Top of mind items/questions from stakeholders related to Fund Balances:

Confusion around following fund balance realignments, especially when a charge on a project goes in and out to eventually get to another DN/GF
Inaccurate fund balances if Schools/Units didn't participate in the fund balance realignment activities; it was optional but has a significant downstream impact and makes it difficult for faculty to know their balances
Need for simple report that allows faculty to see their balances by account and research grant
Uncertainty around which reports to utilize in support of monthly balance; in some cases, the Fund Balance by Cost Center, the Trial Balance by Cost Center, and the Budget versus Actuals reports reflect differing ending balances
Confusion around how balance sheet items are, or are not, to be pushed to the Cost Center level; impacting development of various reports
Some of the areas of unknowns related conversion of the balance sheet activity at the Cost Center level for its programs/processes include:

SIS student billed receivables (ledger 1301)
Accrued Payroll (ledger 2010)
Accrued Payroll withholdings (ledger 2011)
State and Local Taxes Payable (ledger 2020)
Internal Lending Program (loans at the Cost Center level-ledger 2998 )
Investment Program (ledger 12xx) – investments, but should fall to the bottom line so we in the units know those balances reside in our Cost Center

Resources & Guidance

If users are using the Assignee Worktag to manage balances, then they should use the "Fund Balance by Assignee" report

Reporting

Top of mind items/questions from stakeholders related to Reporting:

1.    Quantity of data included in reports – users want a limit to what is displayed
2.    Report inventory – a list of reports, a description of what data is included, and what these reports are used for

Reosources & Guidance

Day In The Life Of A Fiscal Administrator (Reporting FAQ) – this guide matches up 1-2 reports with the most frequent daily questions that Fiscal Administrators and business officers need to address; offers a slimmed-down digest of go-to reports: https://uvafinance.virginia.edu/reporting-resources 
Workday RAD in UBI replaces the Research Admin Dashboard previously available:

•    Provides one-stop financial reporting for post-award Sponsored Programs for Grants Managers and Analysts
•    Currently contains Award Attributes, Grant Balances Available, and Expenditure Details
•    Workday RAD will evolve to include additional features over the remainder of the fiscal year

Account Certification

Top of mind items/questions from stakeholders related to Reporting:

1.    Omission of payroll, SIS details, and fund balance/budget vs actuals in Account Certification view
2.    Numerous manual processes (e.g., filtering to eliminate 0 ledger accounts and drilling into each line)
3.    Confusion around marking variances and filtering out 0 ledger account lines

Enhancements we are exploring:

1.    Hiding $0 balances
2.    Pre-populate certain ledger accounts
3.    Memos on Journals
4.    SIS detail – ideally via integrated reporting

Resources & Guidance

 

Account Certification View

Export the report to Excel but still keep the report up on Workday; this will help you drill into transactions you need more information on. The downloaded excel sheet can also help to "track" what lines you reviewed; for more details refer to this page

Dashboard Time Limit

To avoid losing your changes when reviewing Account Certification, click the "Save for Later" button

Account Certification Best Practices

Account Certification FAQ provides common questions related to Account Certification along with answers provided by subject matter experts.
You do not need to verify every line if it was approved beforehand. If you see revenue ledger accounts for Grants, you can ignore these
You will need to reconcile Projects and other worktags with funding source reclassification transactions; for guidance and details refer to this page

Full Listing of Deferred Items

There are a number of items that were deferred until after go-live of Workday Financials.  In the PDF linked below, you will find the items categorized as closed, active, and on hold.  Dates of the data are noted on the document.

Deferred Items Report (updated November 29, 2022)